2021 8th Annual So-Called Dollar Fellowship Gathering & Educational Symposium
December 17, 2021
The 8th Annual So-Called Dollar Fellowship Gathering was held at the Silver Legacy Resort Hotel in Reno Nevada from November 19–22, 2021. I attend this gathering for the first time this year and also gave a talk. It is always wonderful to get together with fellow numismatists but a great thing happened at this event with a potential new discovery mentioned below!
Here's a quick overview of this article:
The Venue — The Silver Legacy
The Sessions — Let's talk So-Called Dollars
My Session — So-Called Dollar Store Card Mules
The Discovery — HK-27 var. Leather, aka "HK-29b"
The Medals — Pioneer Wagon & Mining Tools
New Pickups — 1883 G.A.R. 17th Annual Encampment Medal
The People — The So-Called Dollar Fellowship
The Future
The Venue — The Silver Legacy
I had never been to the Silver Legacy and didn't know what to expect, but I was amazed when I came across a 7 story mining rig inside on my way to the conference room. Even before I stepped inside I was sold on this being the right venue. I spent quite a bit of time walking around the structure and taking photos from all angles. The scale was just amazing.
Here's a nice video on YouTube from the lighting installer, ADJ Installation.
Looking it up online, I found a good description on City-Data.com. My big disappointment is that since I didn't realize it was minting its own coins at the time so I need to go back some time!
Showcasing Nevada's silver-mining heritage, the automated mining machine at Silver Legacy Resort Casino is a working model of how ore might have been processed in the 1800s. Towering 120 feet above the main casino floor, the machine is continuously in motion, with pumping bellows, steam engines, and running ore wagons. Designed so that human hands wouldn't touch the metal throughout the process, the finished product is coins spewing out near the Silver Baron's Bar and Lounge. Although the resort created a fictitious tale of a miner named Sam Fairchild to explain the development of the machine, it doesn't have to be historically accurate to be appreciated. From an engineering standpoint alone, it's fascinating to see all the parts working together. But if mechanics don't interest you, stick around as this is only part of the action. The machine is encompassed by the world's largest composite dome. The interior of the dome reflects the skies of Reno, showing an entire day from sunrise to sunset. From noon to 11:00 p.m. daily, the dome is the backdrop for the Legend of the Legacy Laser Show, a whimsical but spectacular production of how the West was won, Reno-style. If you don't plan to be in the building for at least several hours, it's best to call ahead to get show times because the laser show alternates with a light show during the day. Admission is free, and the best vantage point is around the railing on the mezzanine level.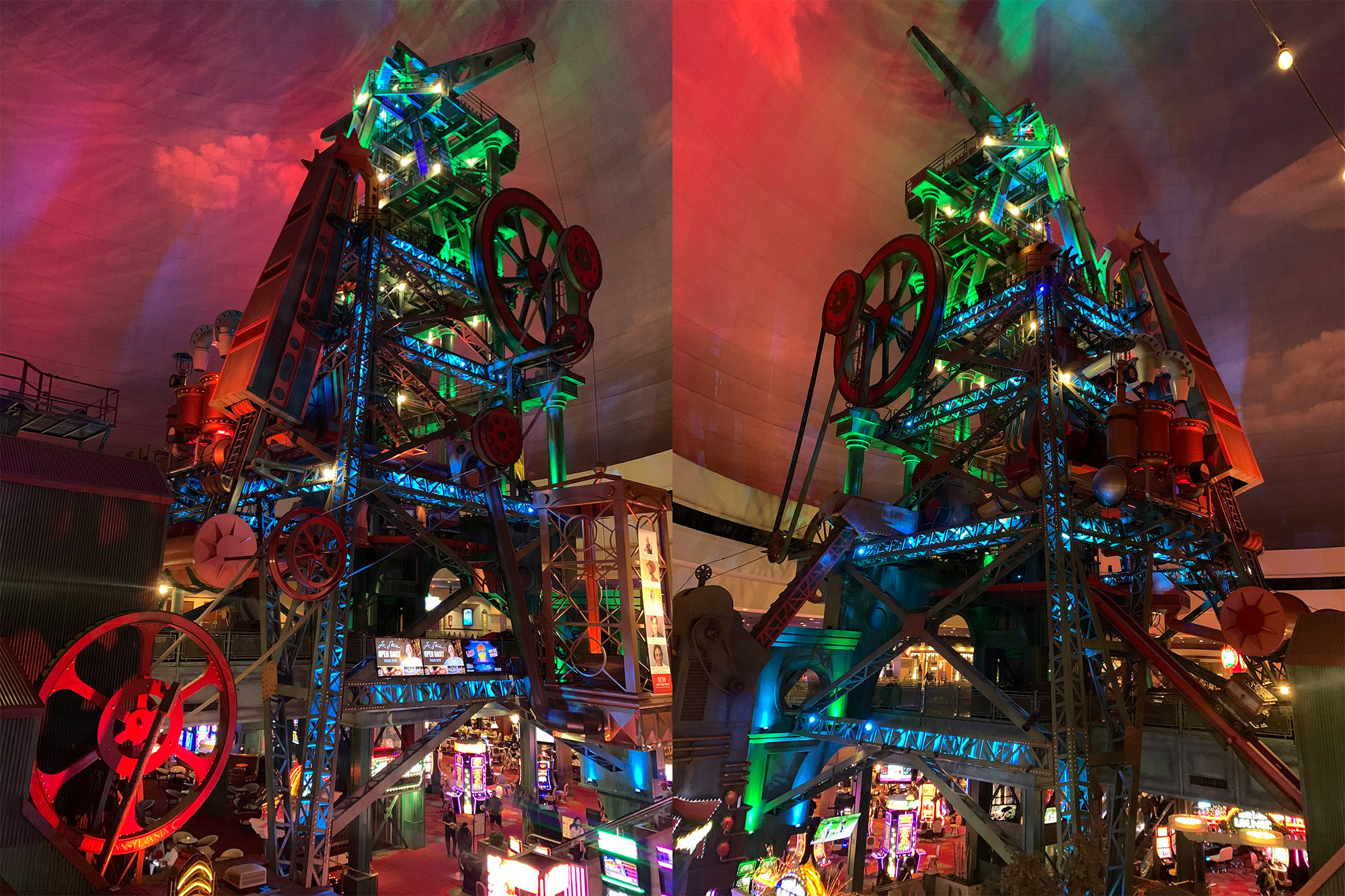 The Mining Rig at the Silver Legacy.
In the lobby was also a set of vintage material from Sam Rothchild, Nevada's wealthiest silver baron.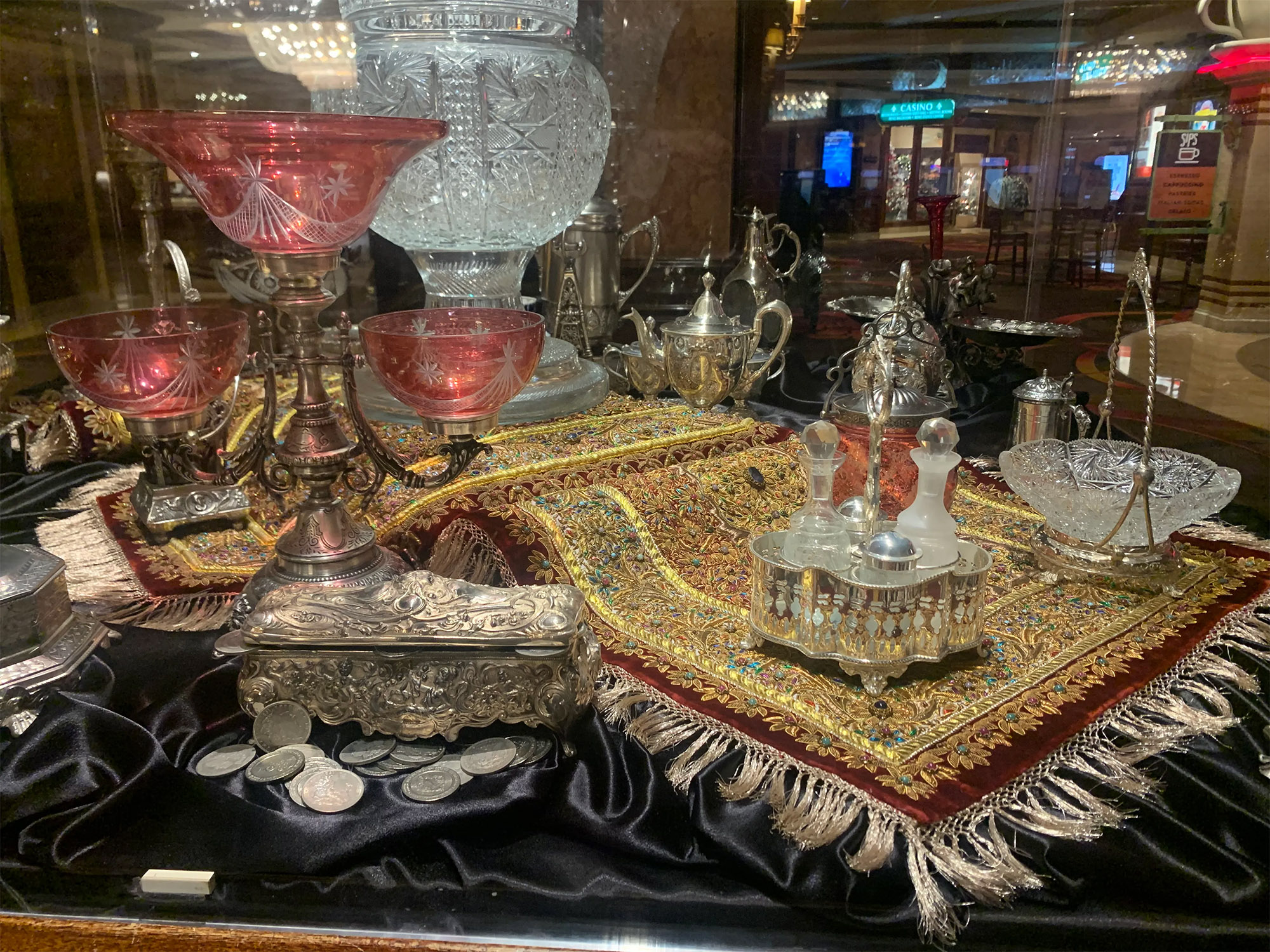 Artifacts collected by Sam Rothchild, Nevada's wealthiest silver baron.
The Sessions — Let's talk So-Called Dollars
The following are some of the session topics covered by some of the subjects luminaries including Jeff Shevlin, Bill Hyder, Bob Jesinger, myself and others.
SCD's from U.S. International Expositions 1878–1892
The Loyal National League SCD's HK 874–875A
North Carolina — Fairs, Expositions and Centennials
California Agricultural Medals
1904 St. Louis Exposition Official Medals — Metallic Compositions
Early Entertainers on Unlisted SCD's
SCD Die Sinker Store Cards
My Session — So-Called Dollar Store Card Mules
I gave a talk on So-Called Dollar Die Sinker Store Card Mules. It's a mouthful but followed my passion of combining the historical context of So-Called Dollars with the people of the era, primarily store card merchants in this case. I focused on a few items.
Note: the presentation has been published on Private Mint News.
1876 Centennial Exhibition
HK-23–26: Stiners Tea Company
HK-75–79: Henry Griswold Sampson
1892 Columbian Exposition
HK-216–218: Ritchie & Dyer Co.
HK-219: Illinois Pure Aluminum Company
1908 Pittsburgh Sesquicentennial
1917 WWI Era
HK-857–860, HK-866: Numismatic Knights
Here's an example discussion. The following two medals are H.G. Sampson medals for the 1876 Centennial, sharing dies with HK-75–79. The bronzed white metal version isn't listed in Rulau. What's interesting is that the 3rd photo shows a silver one which uses a different So-Called Dollar die, the one with die sinker Abraham Demarest's name on it, and that all 3 Declaration of Independence dies are different, which we examined and debated live.
More common H.G. Sampson 1876 Centennial in White Metal (Rulau NY-NY 269C). Photos courtesy of Stack's Bowers.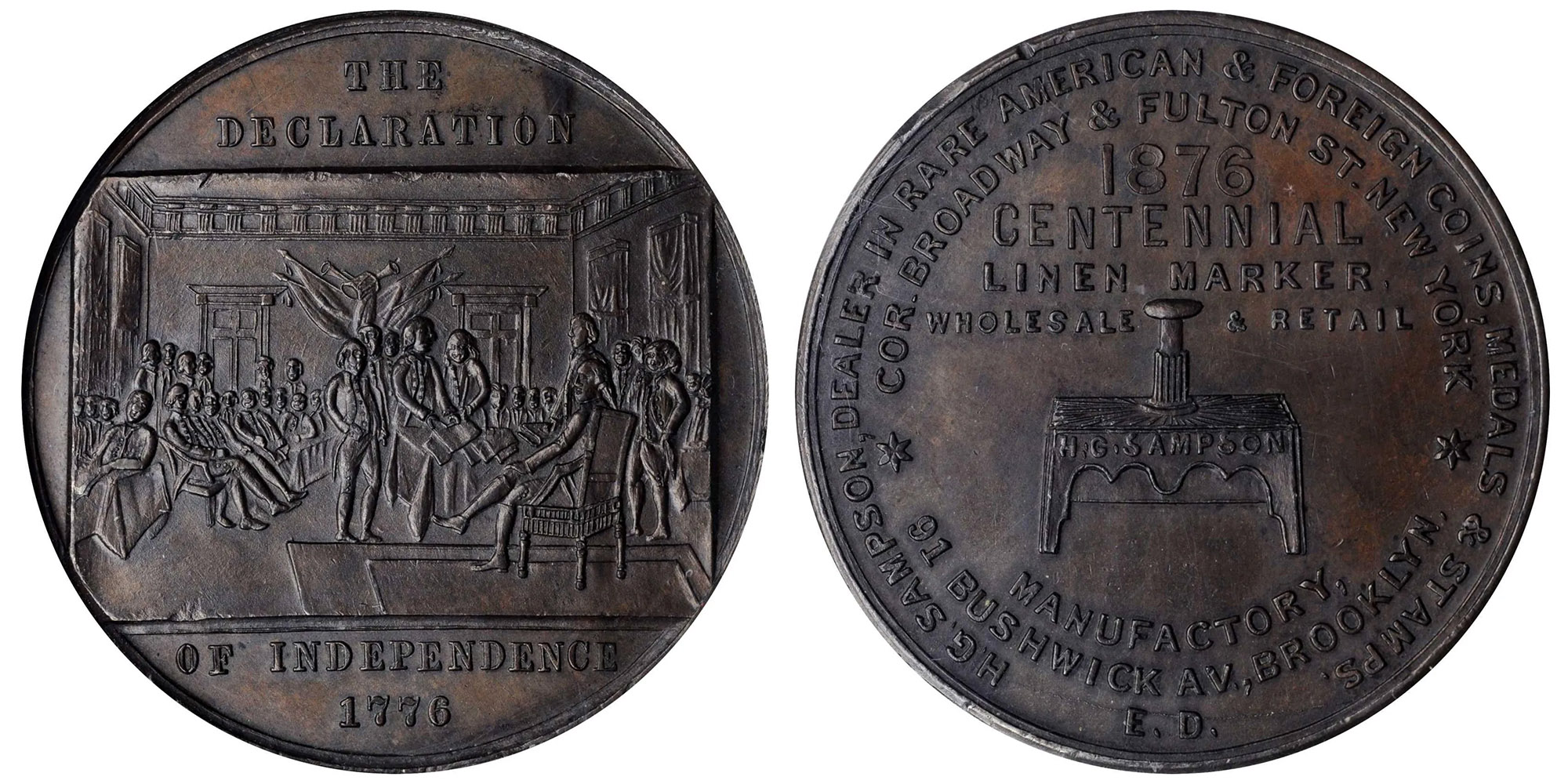 H.G. Sampson 1876 Centennial in Bronzed White Metal (Rulau NY-NY "269D" — unlisted). Photos courtesy of Stack's Bowers.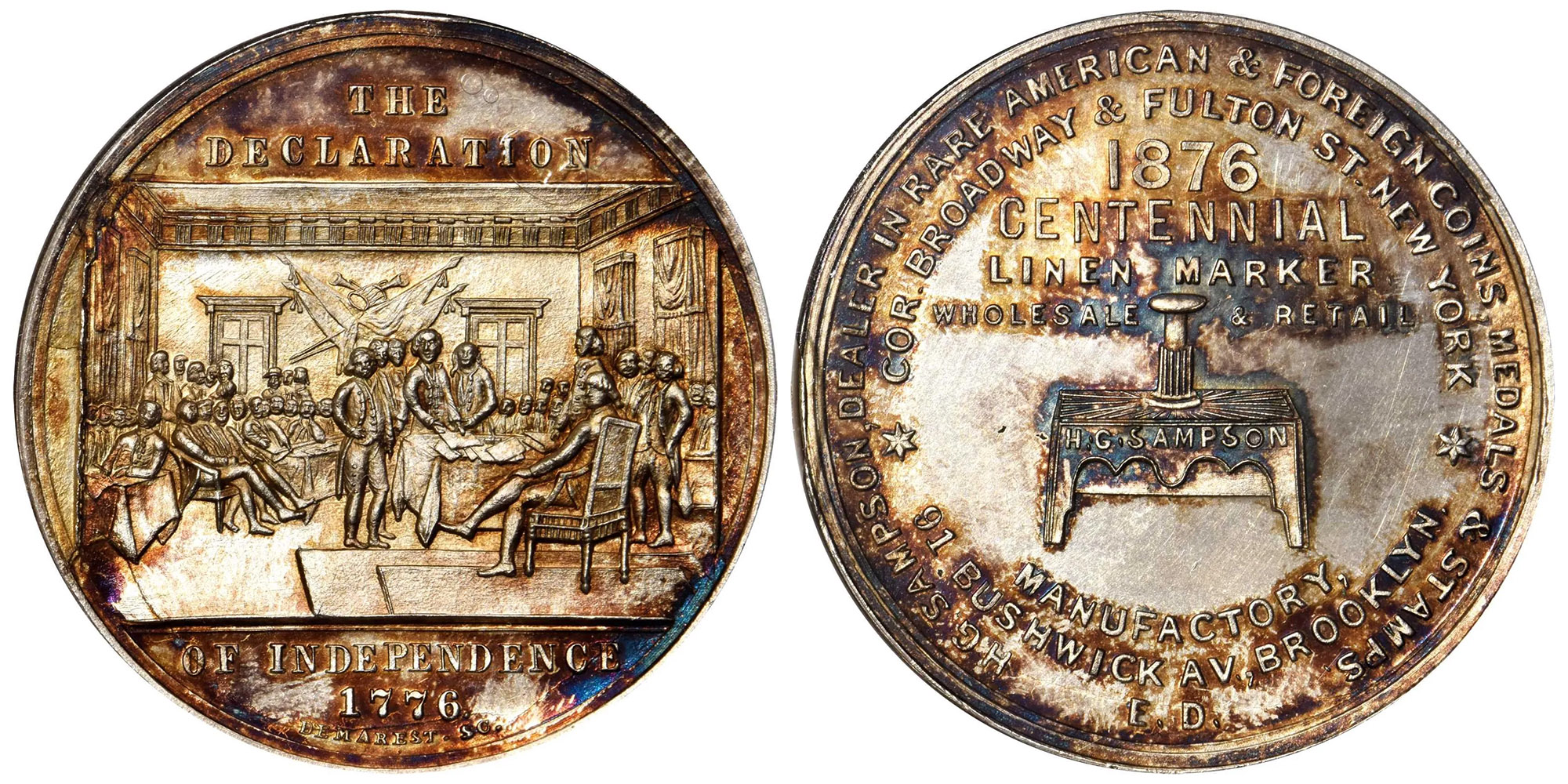 H.G. Sampson 1876 Centennial in Silver (Rulau NY-NY 269). Photos courtesy of Stack's Bowers.
Session Observations
In additional to general content, some great observations were made by the audience and myself:
It was an interesting subject because it's can use more research and was relevant to the audience.
So-Called Dollar die varieties are now being studied and cataloged by Jeff Shevlin and Bill Hyder which encouraged discussion.
The large presentation on the screen allowed easy examination of the die varieties.
Since I had an Internet connection, I was able to easily move from the presentation to online resources like PCGS CoinFacts and auction archives as the discussion evolved.
I had only found a store card for the James C. Lindsay 1908 Pittsburgh Sesquicentennial piece, but Bob Jesinger indicated that he has some that are pure event pieces and thus qualified to be So-Called Dollars.
The Discovery — HK-27 var. Leather, aka "HK-29b"
During my talk we discussed:
that Rulau NY-NY 169 was not listed in bronzed white metal (but NY-NY 170D was)
1908 Pittsburgh Sesquicentennial die having So-Called Dollars that need to be cataloged
but, I had shown also a screen shot of the Rulau catalog for the Stiners Tea Store card which is muled with HK-26. Bob Jesinger was about to sell a "HK-29b" in wood but upon seeing the Rulau listing and the token NY-NY 304 in Leather, he reached out and showed me the piece at lunch for my thoughts, thinking it could be leather. I told him that I thought it was leather and not wood due to:
lack of wood grain on the faces that is common in 1876 centennial pressed wood pieces
line down the edge which looked like split grain leather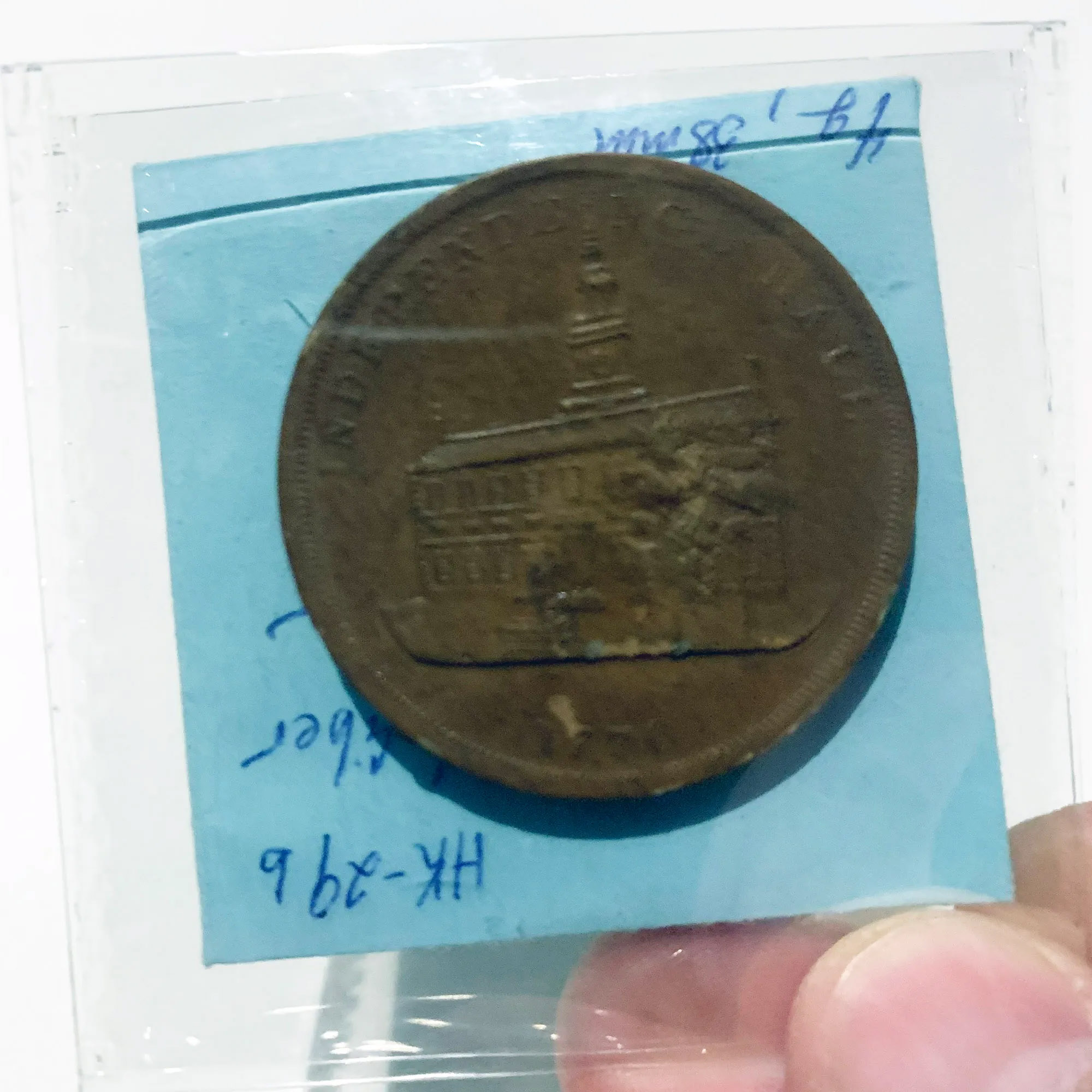 "HK-29B", aka HK-27 variation leather.
Here's the Rulau catalog reference I presented showing the store card in leather:
From Russell Rulau's Standard Catalog of United States Tokens, 1700–1900, 4th Edition.
The Medals — Pioneer Wagon & Mining Tools The medals were sculpted, engraved and struck by Daniel Carr of Moonlight Mint. The design was based on the 1949 California Gold Rush Centennial So-Called Dollar (HK-500), and collaboration between Daniel Carr and Jeff Shevlin.
Below are the concept renderings provided by Daniel in copper and brass tone. These were struck in .999 silver, copper, and brass. I don't have any yet so the renderings will have to do for now.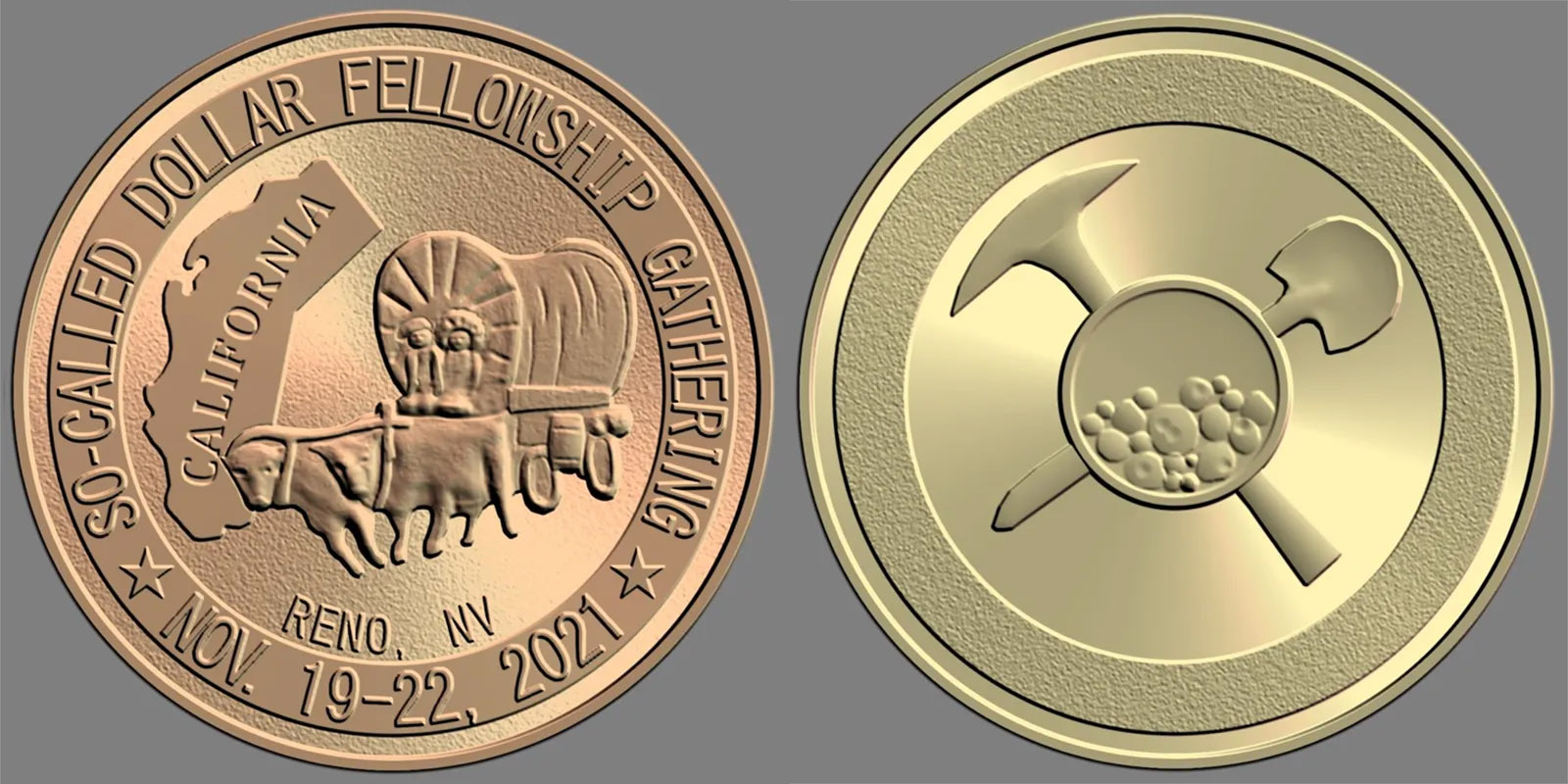 So-Called Dollar Fellowship Medal — Digital Sculpt Rendering — Courtesy of Daniel Carr, Moonlight Mint.
The HK-500 medal it is based on was issued by the California Medalists Society, run Jack Hecht, and based in San Francisco. While the die sinker is unknown, HK-496 to HK-498 was also issued by the California Medalists Society, and these are known to have been struck by Irvine & Jachens in Daly City, CA from dies said cut by Fred Johnson according to Hibler and Kappen.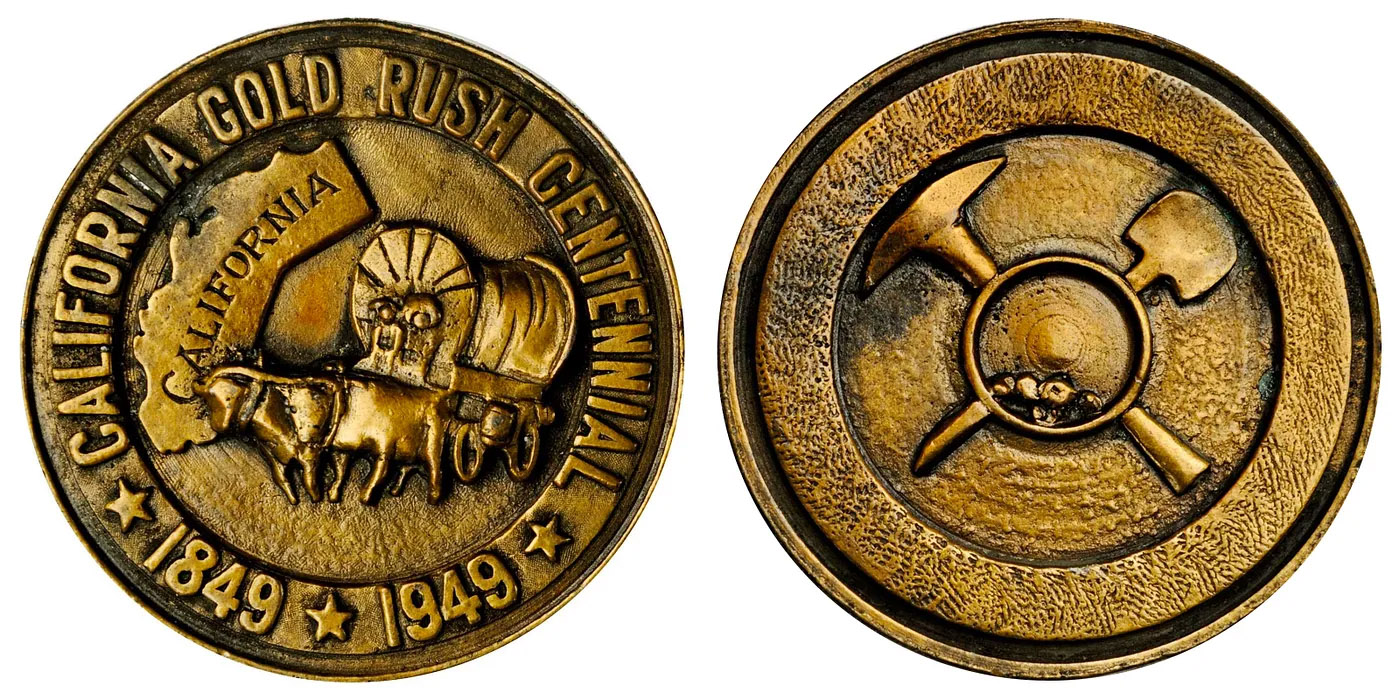 1949 California Gold Rush Centennial So-Called Dollar issued by California Medalists Society. Photos courtesy of Stack's Bowers.
New Pickups — 1883 G.A.R. 17th Annual Encampment Medal in White Metal
And of course, a trip report wouldn't be complete without some new pickups, or at last attempts!
I wanted to pick up HK-29b in Leather, but two people put in dibs before me so I withheld my desire.
I looked through quite a few So-Called Dollars and was able to pick up one medal, the following 1883 G.A.R 18th Annual Encampment medal from Bob Jesinger. Luckily it was already PCGS certified with a TrueView. I'm a fan of G.A.R. medals and really enjoyed the Colorado mining motif so I was drawn to this piece. The white metal medal is quite reflective in hand, but this isn't shown in the photo, which is something to try for later.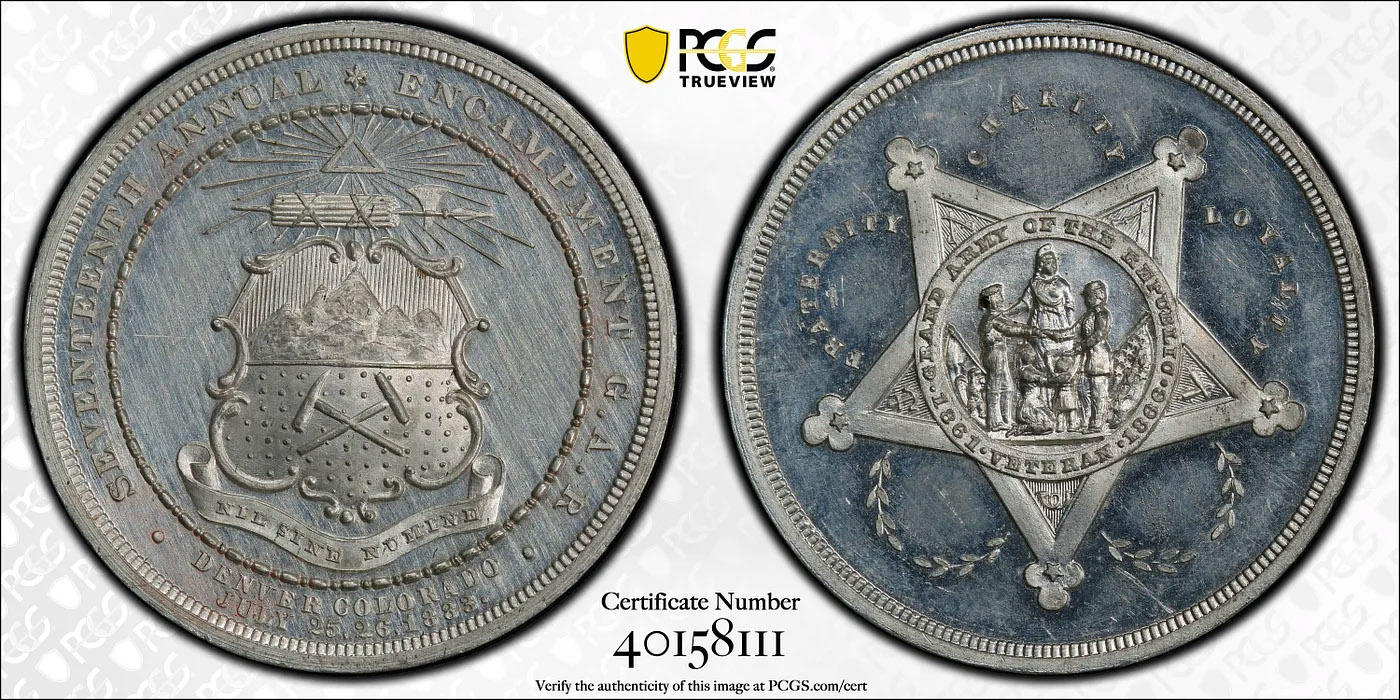 1883 G.A.R. 17th Annual Encampment TrueView — Photos courtesy of PCGS.
The People — The So-Called Dollar Fellowship
Much like the Fellowship of the Ring, the So-Called Dollar Fellowship is a group of people with shared interests. I was able to put faces to names of people I've communicated with on the Internet, by email and phone. Our conversation was also very engaging, so I highly recommend people participate! A big thanks to Jeff Shevlin for organizing, the Fellowship for presenting and participating, and Dan Carr for striking the medals.
The Future — More Research, More Fellowship
A fascinating thing about So-Called Dollars is that the area is still ripe for more research including:
events
die varieties
compositions
mules
One area of debate with the 1962 reference work by Harold E. Hibler and Charles V. Kappen has been whether it covered all events of significance and that no more existed in the date ranges covered, however, in discussion it became clear that Harold and Charles were not aware of all the events and put out a request for people to send them info. If an event wasn't covered, it's not necessarily because it was known and deemed insignificant but more likely that no one sent them info on the event at that time, so there remains a lot of opportunity for events such as the 1908 Pittsburgh Sesquicentennial.
So, this is an area that continues to be a fascinating look into our past with rich opportunities for research, discussion, and fellowship.